ZIGLY Modules

ZIGLY is a software platform that combines six key technologies for the success of the project:

Enterprise Content Management
File management
Communication channels
Task manager
Bots and Applications
Security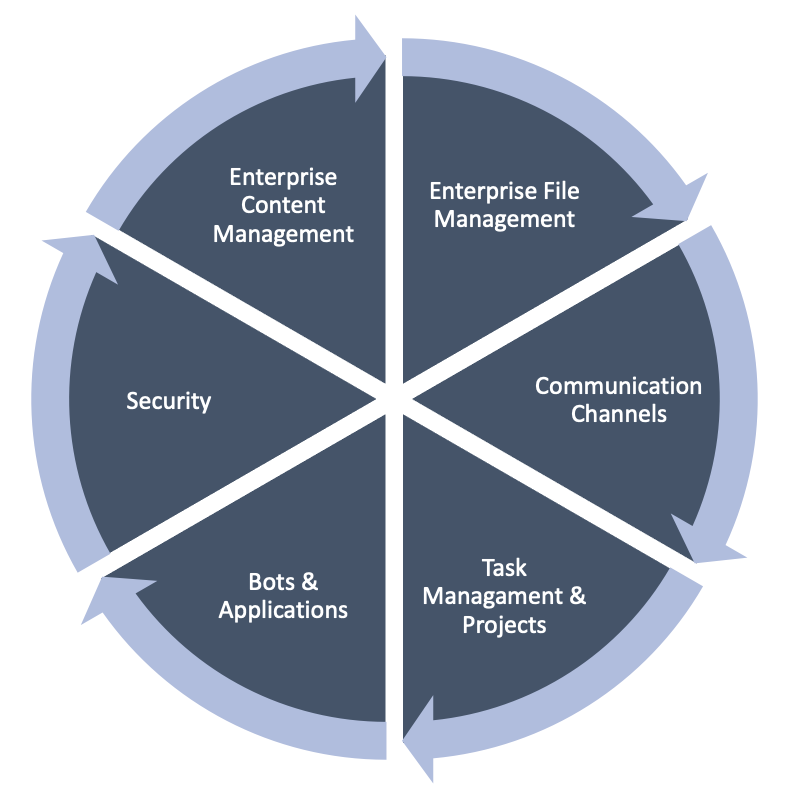 1. Enterprise Content Manager

With ZIGLY you can post news, articles, videos, polls, wikis, image galleries, files, links, forms, and other content. You can also configure boards for all your communications, news, projects, teams, e-learning, knowledge bases, etc. – all protected by powerful and flexible roles and access control management.
Content types

With ZIGLY's Content Manager you can manage and publish multimedia content in different formats.You can also drag content to other boards or share it in communication channels by simply dragging it as shown in the image below.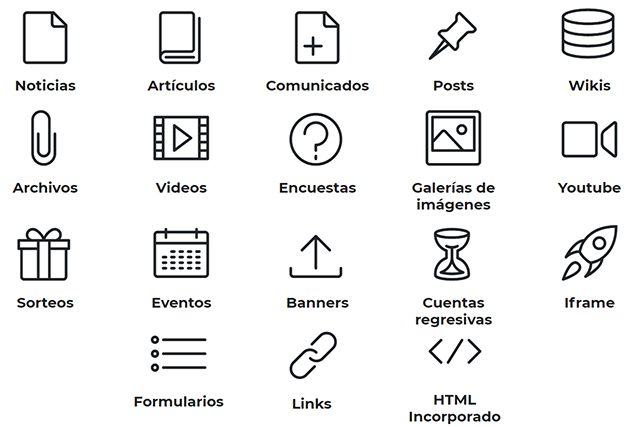 Boards

ZIGLY arrange Content into Boards. These allow you to create and update content with no back-end consoles or other applications. Just post right in the board whenever you need to.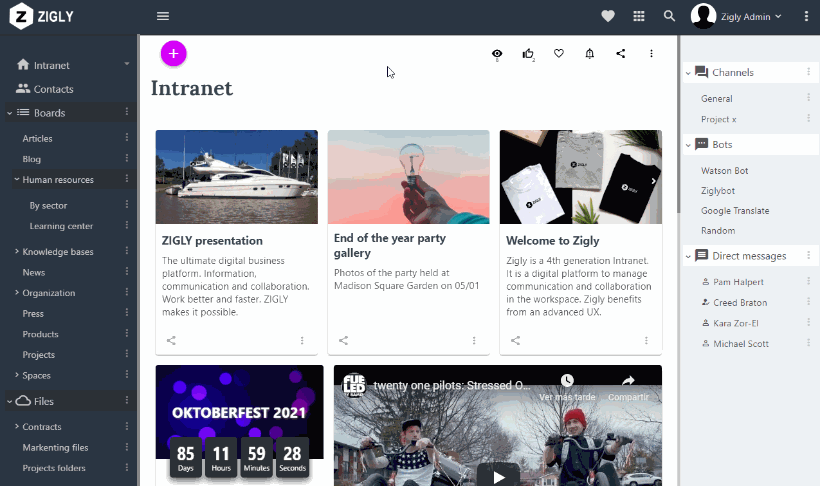 2. Internal communication

Internal communication happens in ZIGLY, sharing news, articles, videos, files and any type of content, without the need for links or other artifacts, all with a simple drag & drop.
Communication channels

Channels enable teamwork and live communication. People can use channels to share messages, content, tools, and files. Conversations, news, videos, files and any other content flow through channels.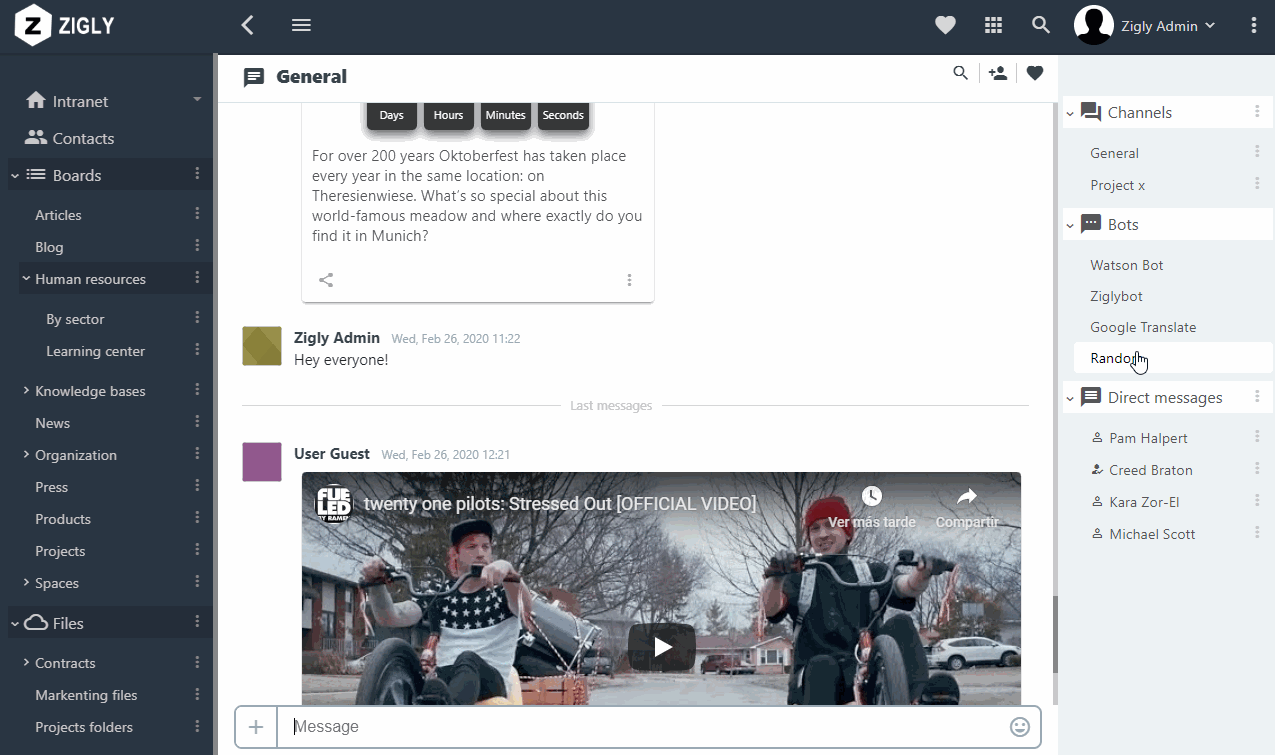 3. File management
ZIGLY Drive allows you to store all company files in an agile and centralized way, organizing them in folders with strict permission control, accessible from anywhere. It also allows you to version the files and set modification alarms for monitoring.
Edit without downloads

You can upload all kinds of files, classify and move them with a simple drag & drop, as well as edit them directly without having to download and upload them again.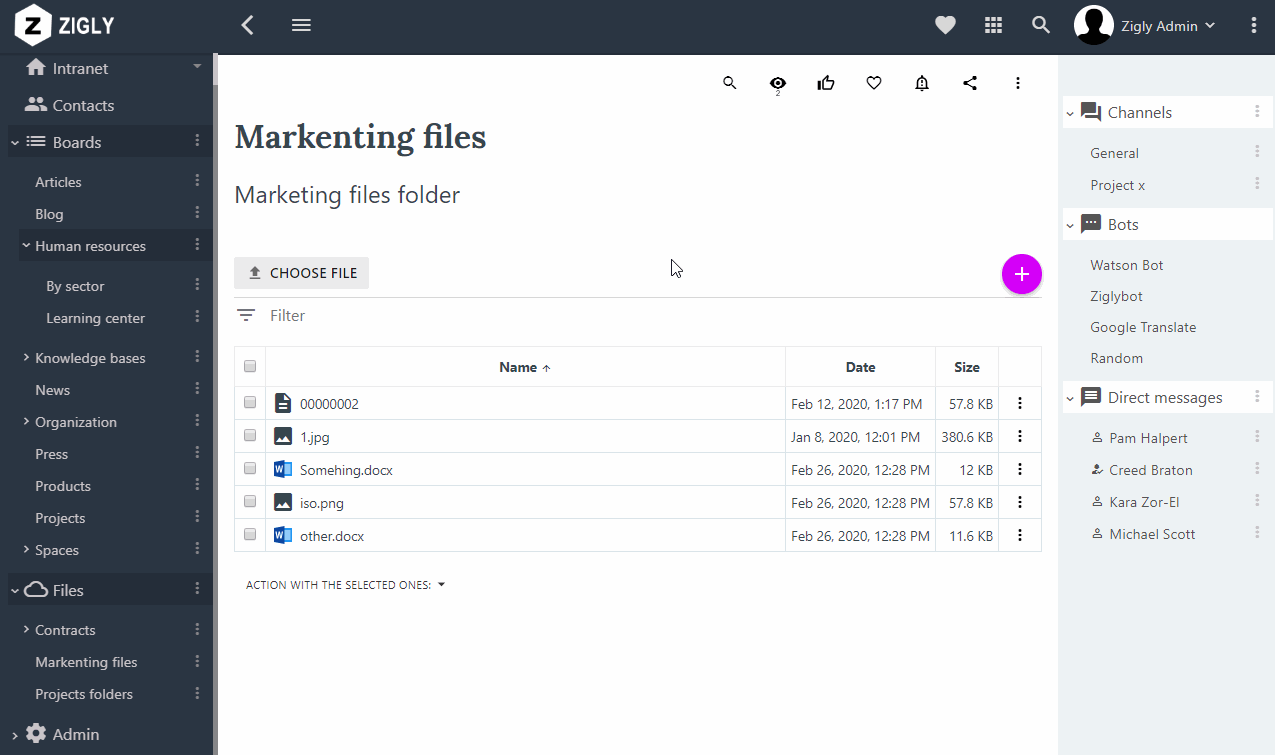 ---
Permissions: You can specify who can see the files, who can modify them, who can upload files to a folder, etc. In this way the different users will see different files depending on their authorizations, thus being able to configure virtual drives by areas, projects or work teams; providing great flexibility.
---
Office 365 integration

ZIGLY integrates natively with MS Office, allowing you to directly edit Word, Excel and Power Point files without having to download and upload them again, providing great agility when working with office packages and facilitating collaboration and exchange of them.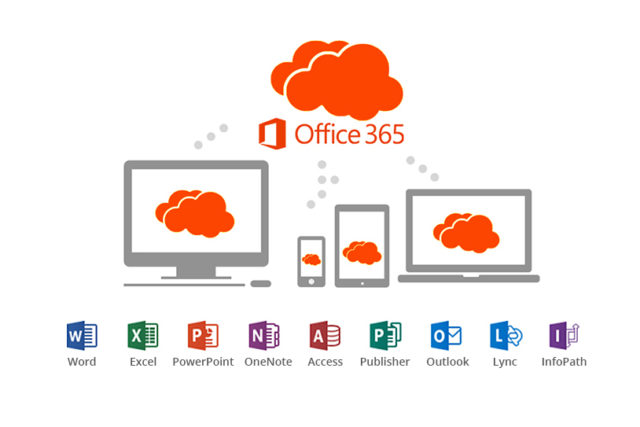 4. Tasks and project management

Prioritize work, Manage projects, Organize and Promote Teams, Set Goals and keep track of all activities in a simple way. ZIGLY makes it possible.
Plan and execute

ZIGLY allows you to manage from personal tasks to multiple projects; assign managers, change their statuses and priorities, set due dates, add notes and files to them, record work hours, and much more.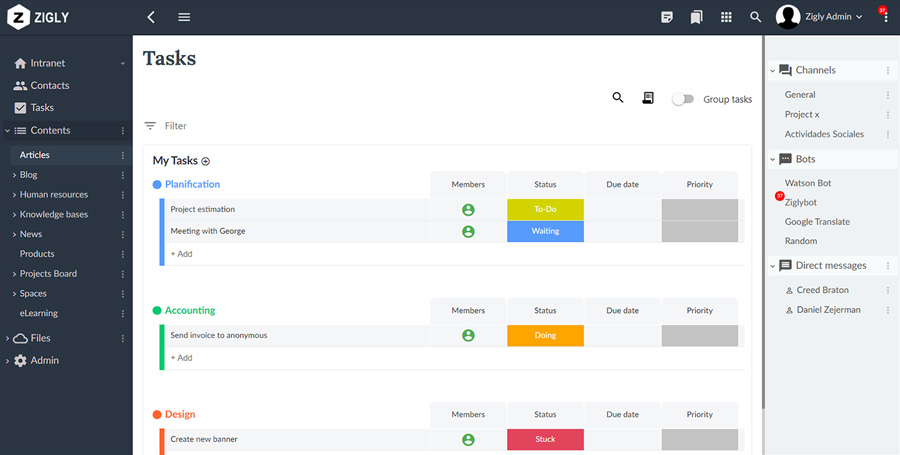 All-in-one, anywhere

Switching between desktop and mobile seamlessly, ZIGLY has all the power to manage projects and workflows in your pocket too.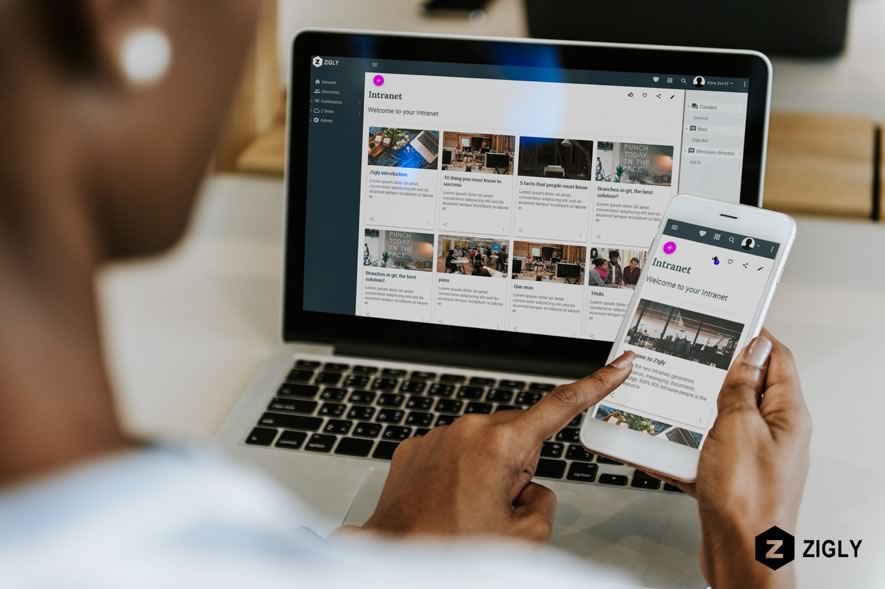 5. Applications and Bots

Applications are tools that are integrated into the Intranet to enrich the workspace, in order to put all the necessary resources under a single corporate application providing standardization and ease of access.
Examples of applications can be room reservation systems, ticket systems, integration with CRM, HR system, integration with the Business Intelligence system, ERP, etc.
Bots

Bots are a special type of App designed to interact with users through conversation channels. They are like having a virtual member of the team that represent a certain system or functionality.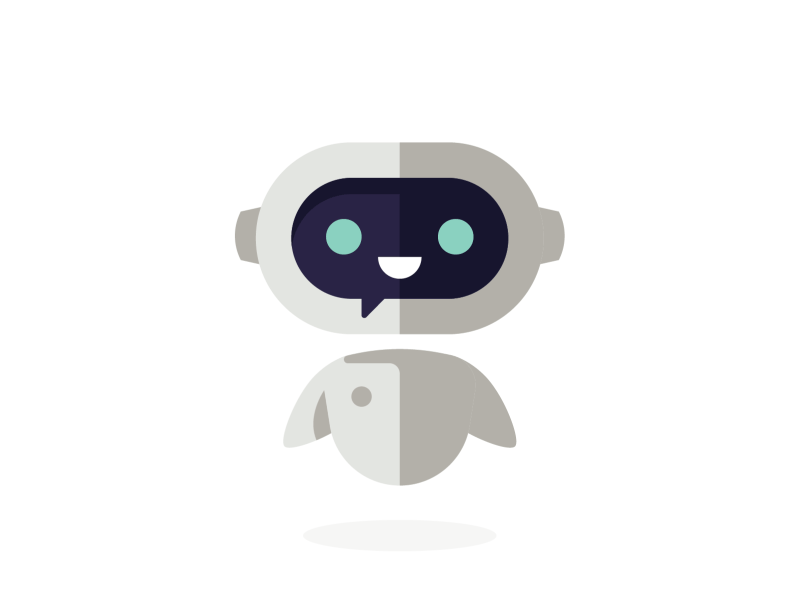 Integrations

ZIGLY has an API to integrate new applications to the Intranet, as well as new bots and Artificial Intelligence systems such as IBM Watson, Google Cloud IA, Amazon IA, etc. It also has a set of standard integrations out of the box, such as Trello, Slack, Google, etc.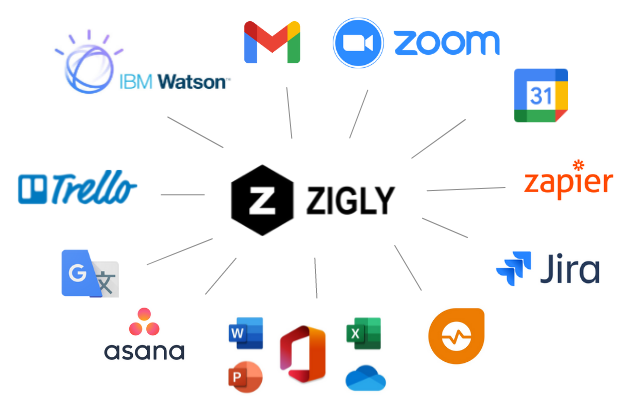 ---
It is also possible to integrate the Bots with Artificial Intelligence systems such as IBM Watson, Google Cloud IA, Amazon IA, etc., in order to provide them with greater capacity and levels of interaction.
---
6. Security and access control

Security is an essential topic when it comes to Corporate Intranets solutions. ZIGLY has a professional security architecture, both at the infrastructure level, division into layers, secure channels via SSL, as well as at the application, role, user and permission level.
Permissions

ZIGLY has a powerful role-based permission scheme, which allows you to establish authorizations at the content, folder and board levels, as well as inheritance between them.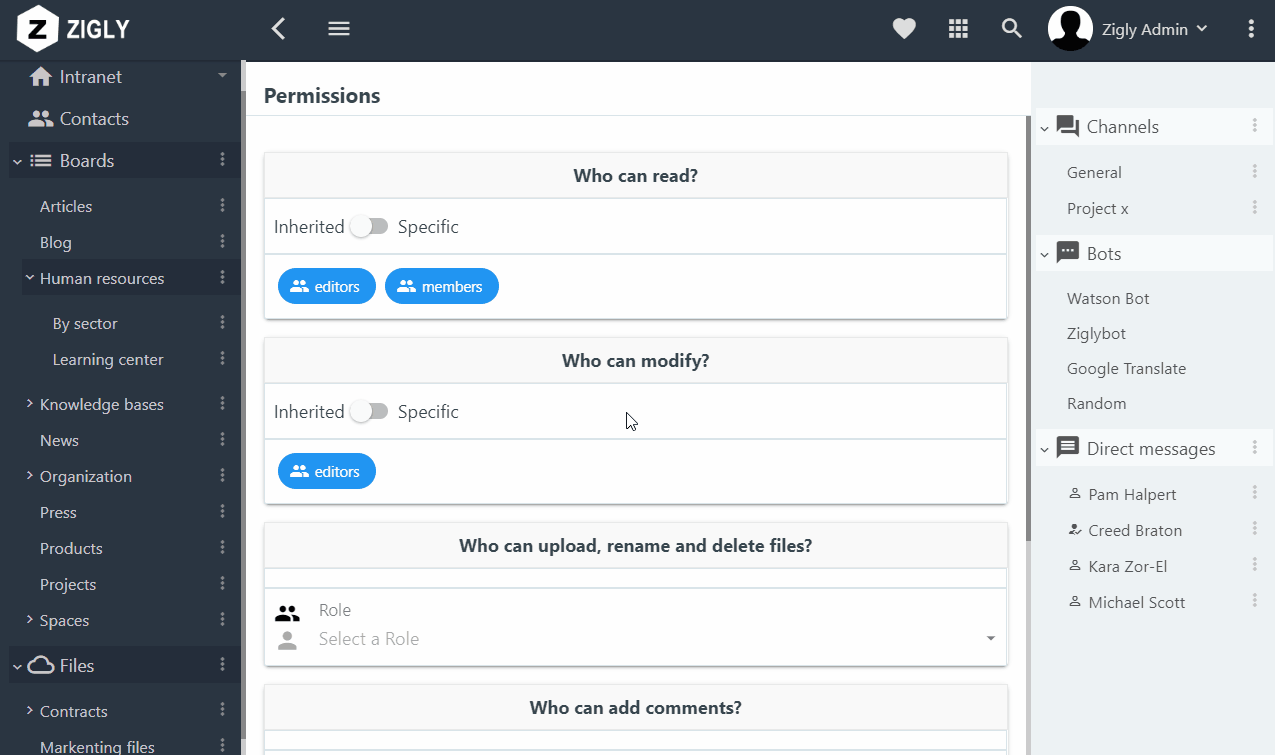 Authentication

ZIGLY has multiple authentication mechanisms and Single Sign On (SSO), which can be used simultaneously. It is also possible to configure login rules, user locks, audit trails and much more.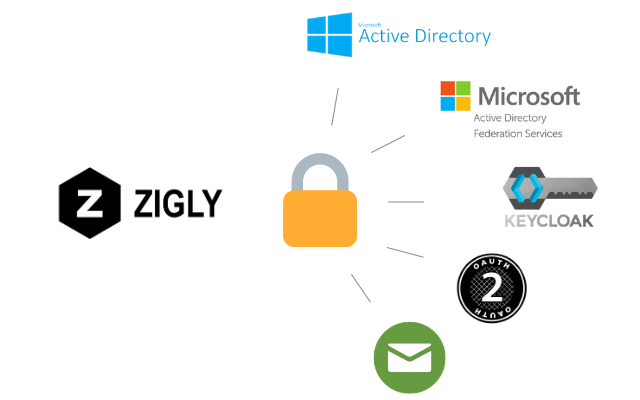 ---
UX 360

ZIGLY introduces a user experience Advanced , which gives less experienced users the ability to to capture and share information in a simple way , promoting communication, collaboration and employee engagement.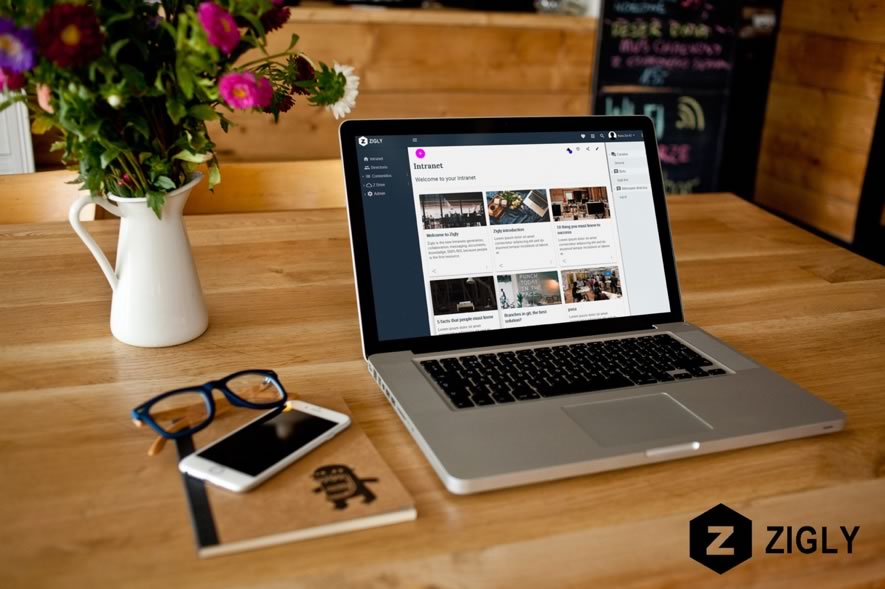 ---
It matters what the software does, but even more so what can the user do with the software
---